-
|
/ Save up to % Save % Save up to Save Sale Sold out In stock
The World's First Tesla Front PPF Kit Designed to be DIY
Price is the number one hurdle Tesla owners face when deciding how to protect their Teslas, as professional paint protection film (PPF) installs cost over $2,000.
To give Tesla owners full control and accessibility to protect their Tesla, we needed to come up with a product that's not only affordable and high-quality, but also easy to install.
We designed our kit from start to finish to be installed by someone with no prior PPF experience. The kit consists of smaller sections, includes all the tools you need, as well as a full online video course.
Learn How it Works
Includes All Tools Needed
Designed to Last 10 Years
Step-by-Step Video Guide
Beginner-Friendly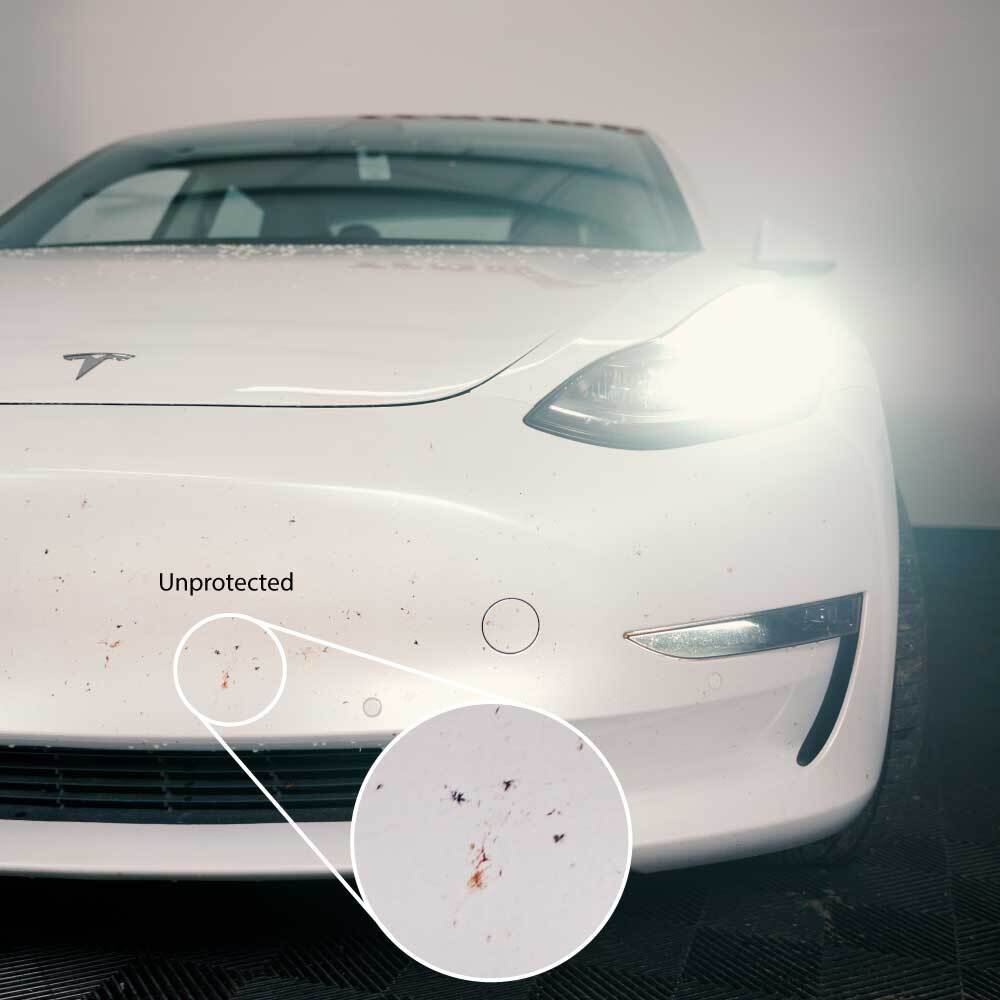 Protect High-Wear Areas from Rocks, Scratches, & Chips
Tesla's paint is thin and chips easily. As a certified shop, we've realized that the front bumper, fender, and hood are the most vulnerable parts of your car that tend to get scratches, rock chips, and paint damage.
Not only that, water spots, insects and bird poop can etch into paint overtime, causing paint discoloration. PPF protects your Tesla from all of the above.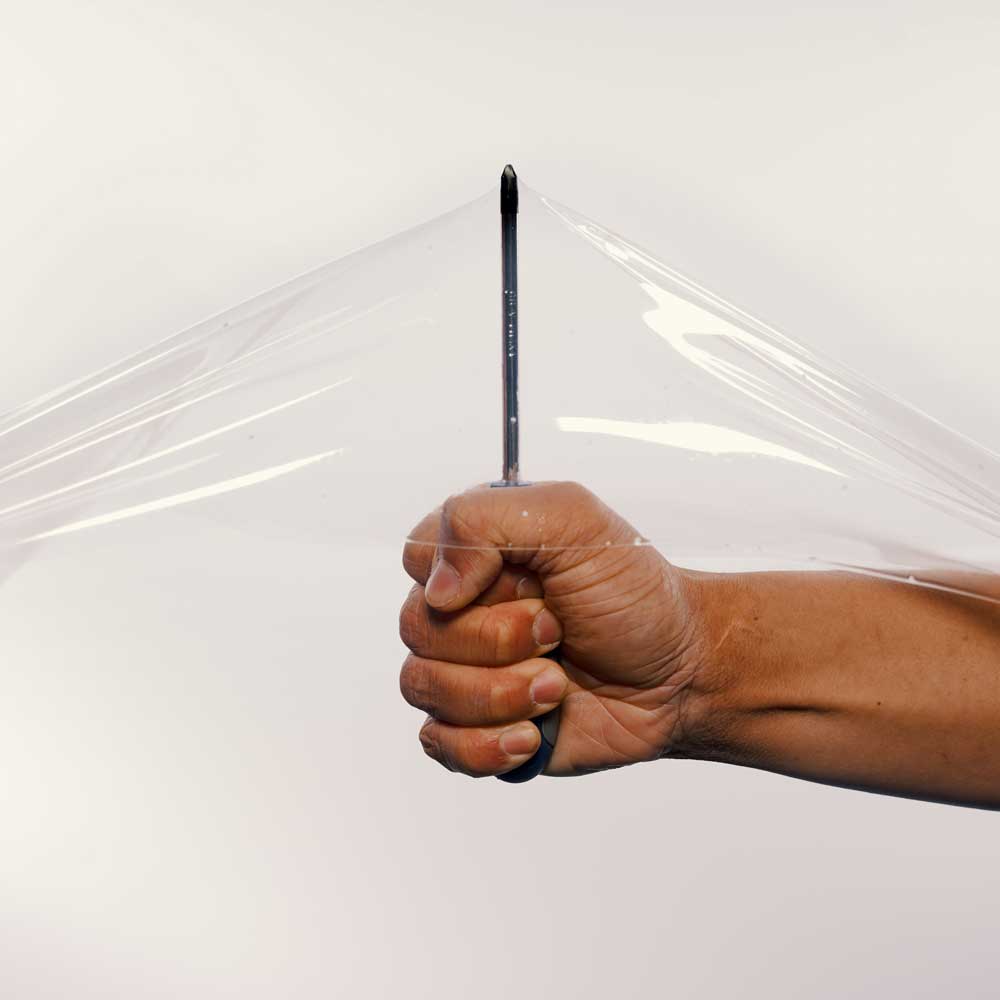 The Highest Quality, Invisible Protection Film
PPF is a super strong and durable film that can withstand many elements while enhancing the Tesla's shine. It features self-healing abilities, making scratches disappear over time with heat.
It also has hydrophobic properties that make it easier to clean, and protects your Tesla from insects, bird poop, and water spots.
While keeping your Tesla looking like new, PPF protects your investment's resale value.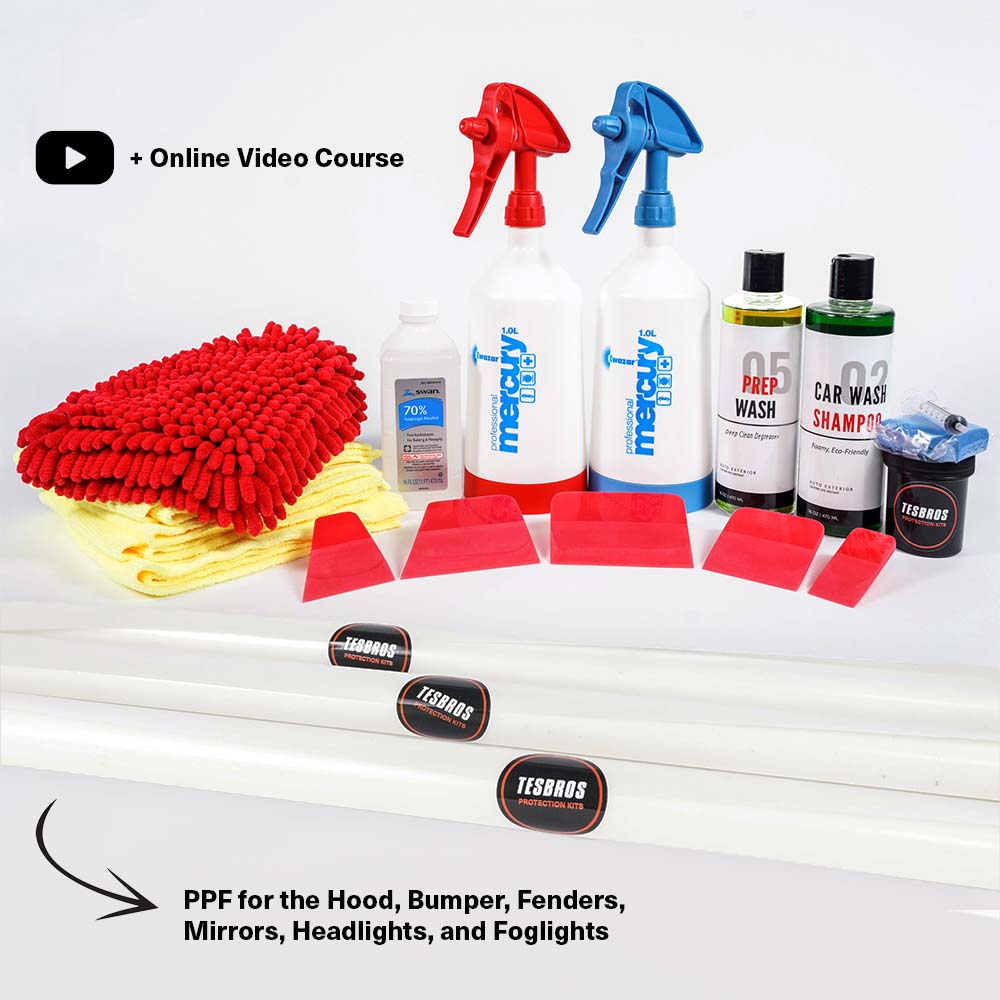 All-Inclusive Front Kit + More
Our PPF Kit includes custom-designed and cut pieces for your hood, front bumper, fenders, mirrors, headlights, and foglights, along with everything you need to prep your Tesla and install the PPF.
We believe that to successfully install PPF, you need the right tools and instructions for the job. In our professional experience, we've tested and gathered all the best tools and included them in this kit.
Most importantly, we've put together a detailed online course so you can follow along and install with us.
Designed for Beginners
We cover everything from prepping your Tesla, installing the PPF, and maintaining it after installation. With our support, you don't need to worry about looking for answers - just follow the guide and start protecting your Tesla.
Plus, our kit requires absolutely zero cutting.
Throughout the whole installation process, we'll be right by your side with our in-house PPF experts.
FAQs
Not at all! Our kit was carefully designed to fit without removing anything or having to use a knife on the car.

You can find our course at courses.tesbros.com. If you'd like to see how the course is laid out, feel free to sign up for free!

We understand that people change their minds. In our kit, we provide a Test Kit that allows you to try it out using smaller pieces. If it's not for you, as long as you didn't open anything else, you can return the full kit for a full refund.

We use Avery Supreme Defense PPF that is rated for 10-years of durability. The film will not yellow or crack over time.

Nope! We designed this kit for the average Joe. We include everything you need to learn as you go.

This can depend on the person, but we estimate it will take 8-12 hours if installed alone.

We include in-depth courses that walk you through the installation process. Other kits require prior PPF knowledge, while ours is completely beginner friendly.

Absolutely. There are many ceramic coatings that are specifically for PPF which will make the car even easier to keep clean!